So I can't do Sudoku anymore. I've lost whatever part of my brain it is that renders me able to use logic to number a bunch of boxes. I'll just be sitting here, filling in boxes like it's my job, and when I get close to the end, I'll realize I made some ridiculously dumb mistake a freaking-long time ago. Like putting a six in a row where there is clearly already a six. Sigh.
I'm about 3/4ths the way through The Tipping Point. I am recommending this book to Warren. It's making me think about some things differently and I'm enjoying it.  And also, I just found this picture of the author, Malcolm Gladwell.  It was… stunning.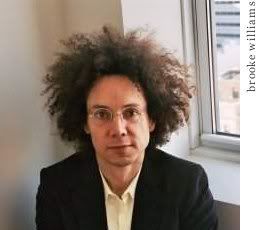 I've also acquired a new addiction: the PC game Civilization IV. I'd never played any of the Civilization games before and thought this one looked intriguing. And now I'm addicted. As I sit here, posting from work, I desperately want to get my cities to make more warriors. I need to take over the world. I only have three of the world wonders and that is unacceptable!
I was hoping this would be a funny post, 'cause it's been quite a while since I had one of those. Sucks to be you people. But a guest did just call and ask me to send security to the room next door where "the lady is screeching like a chicken." Don't ask.