Thanksgiving #1 was on Tuesday night at Josh and Cynthia's. Instead of gathering around the television to watch the traditional Thanksgiving football, we gathered around to play Marvel SceneIt. (After the meal we changed things up a bit and played Harry Potter SceneIt.)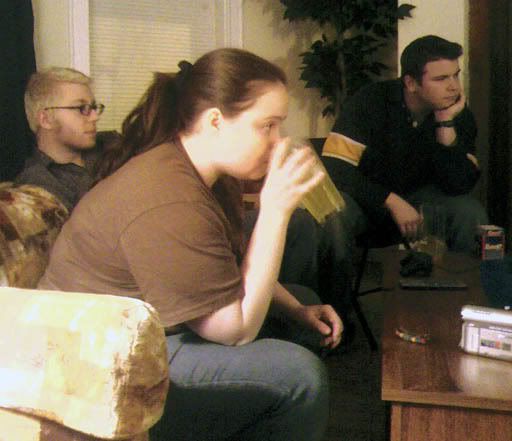 The other Tim and Cynthia worked hard preparing the food while Josh sampled. Helpfully.

Tuesday's table: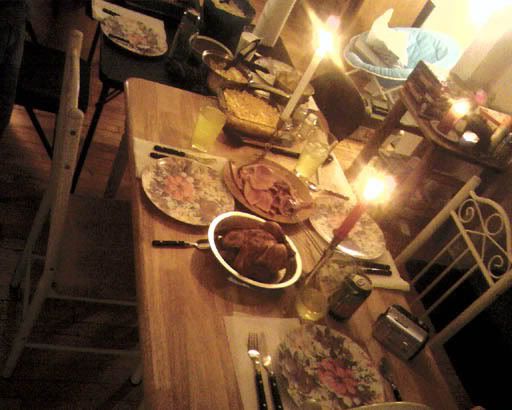 On the actual Thanksgiving holiday, we went to Chris and TC's for Thanksgiving #2. Unfortunately, Chris had to work and could not be present. But we did send him Tupperware containers full of food and made a mini-video for him to watch at work.
Here is Chad stirring (and making disgusting comments about the appearance of) the gravy.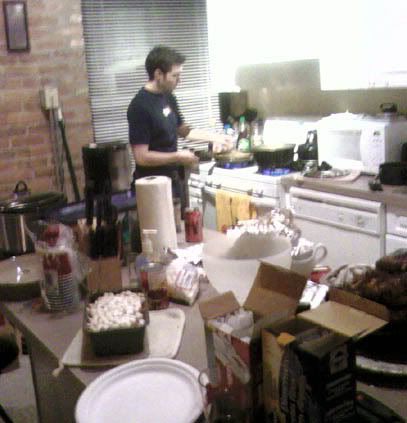 TC, carving the massive 26-pound turkey he made while Pam takes a picture. This boy can seriously cook. I need to marry him.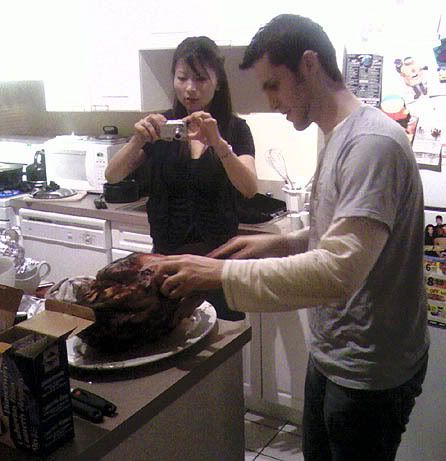 Here's Tim, posing with a miniature plastic fork. (He really liked those forks.)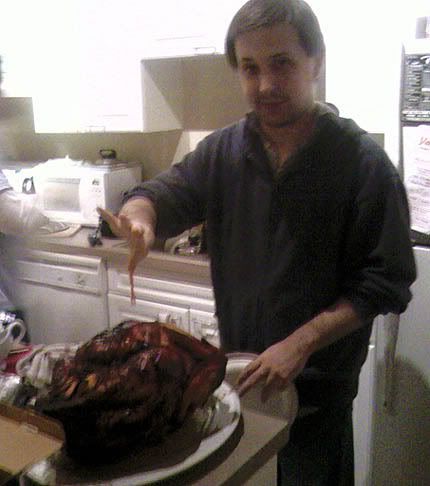 Thursday's table, complete with a giant bottle of Jack Daniels: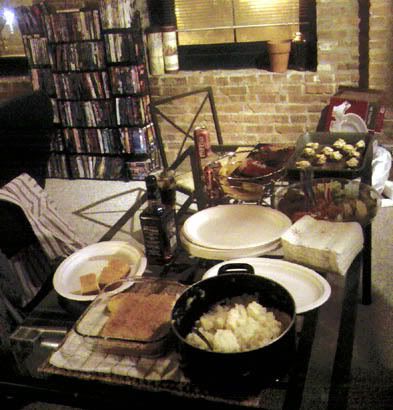 Then I left for Dayton, Ohio to have Thanksgiving #3 with my family and extended family.
Saturday's table:

After the meal my dad and brother sat around and watched football while everyone else played board games. That's my favorite thing about family holidays…all the game-playing. I did, however, stop playing when I discovered the all-soccer channel. I watched an Arsenal v. Bolton match and then went back to the board games.

Here's me and my brother, Chris.
And a good picture of my mom. I, however, look like I know some sort of secret and I'm not telling. That sounds like me, anyway.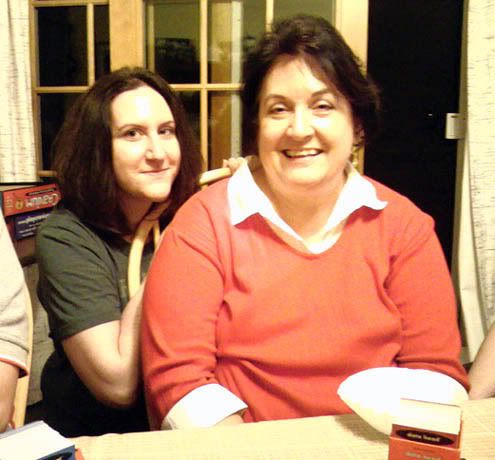 My family left for home on Sunday morning and I went to my old church and then to the Dayton Thanksgiving Parade with my friend Jaime and her three-year-old. I didn't even know Dayton had a Thanksgiving parade, despite my having lived there for fifteen years.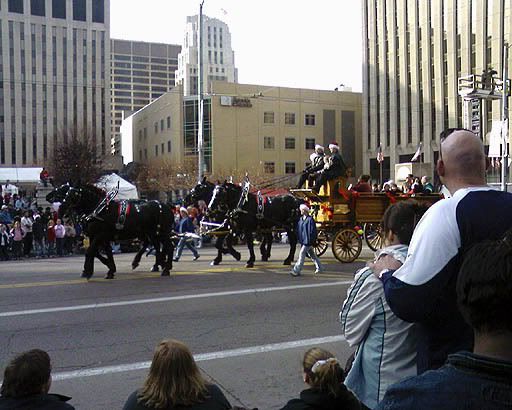 And here's Jaime. I'm still flaunting my knowledge of that secret, but I think I let Jaime in on it as well. We both look pretty smug about what we know.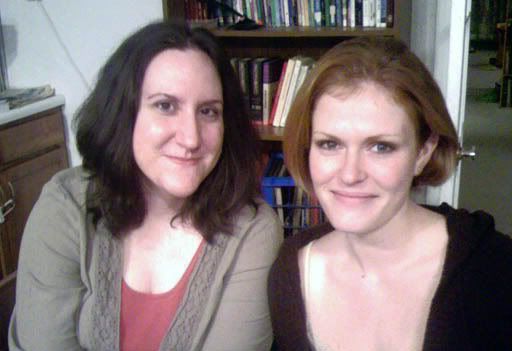 As we walked back to the car after the parade, this middle-aged, black guy came up next to me saying, "Excuse me, excuse me." I assumed he was asking for change and ignored him. Then I thought, "Wait, this isn't Chicago–you should see what he wants."
Guy: "What's your name?"
[I paused for a split-second and then brought out the ol' standby.] Me: "Amanda."
Guy: "Hi Amanda. Are you single?"
Me: "What?" [Note: he mumbles.] Guy: "Are you single? Or married?"
Me: "Oh, I'm married."
So now dear Amanda has a husband. Good for her. I decided a while ago that she was Jewish, that way when hotel guests asked me where the nearest Catholic church was I could reply, "Sorry, I'm Jewish." So now Amanda is the recently converted wife of Phil Rubenstein. He is probably an accountant, but I doubt that the lie would ever need to go that far.
I also got to see Amber, but not for nearly as long as I would have liked. We had some lovely Mexican food and browsed Barnes & Noble.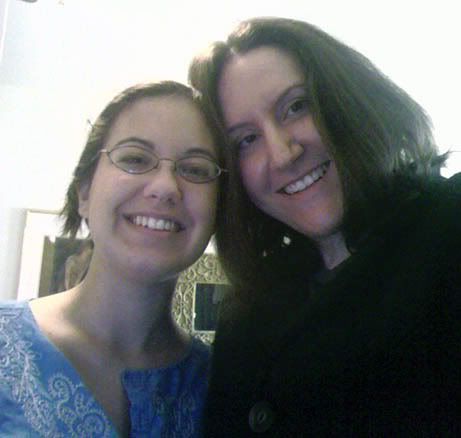 I spent Sunday night at Stephanie's, who I took a picture of but it didn't come out very well. My apologies. Here is her adorable son, Malachi. I love my little monkey.

Jaime, Steph, and I talked for hours on Sunday night–the topic of conversation ranging from divorce to homeschooling your children to why I've never had a really good kiss. (Answer: it was like they were trying to eat my face. You think I'm kidding–we're talking "need-to-apply-extra-strength-lotion-to-my-poor-dead-skin" to counteract it.) I love girl talk.
And it looks as though another Obituary is in order. This one will be less heartfelt and much shorter than my previous one.
Obituary
Cell Phone Battery punked out while Teri was in Ohio. The cheap piece of crap will be tossed at her earliest convenience. Thank you.
But all-in-all a great week. All night, co-workers have been asking why I'm so happy. ::shrugs:: Life is good, despite my angry waistline. Now if you'll excuse me, I have to go and shoot massive quantities of caffeine into my veins.