Since Tim is in Florida this week on vacation, Paige has been pseudo-living with me.  One night we made peanut butter cookies, which were a big hit at work.  I had already purchased tickets to the Simpsons movie, so we went and saw that too.  True, it was like an extra-long episode, but I liked it.
Reid is back in town today from his summer in Europe and will also be staying with me.  It'll be nice having him around again.  He's offered to clean and cook for me in return for letting him crash here, and I am looking forward to that.  He doesn't really have to clean anything, but he's a good cook–something that is always welcome in my apartment.
This Friday is the new Bourne movie!  Matt Damon is relatively attractive, don't get me wrong, but there's just something about him as Jason Bourne that is so very hot.  I've included a chart to make sure there is no confusion on this subject.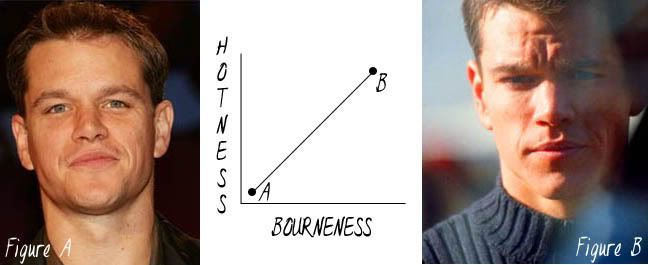 One week until I'm gone myself.  At least four different people have told me that I had better come back to Chicago.  The first couple struck me as funny.  Now it's just peculiar.  Of course I'll come back.
All of my stuff is here.