Tim and Stephanie drove up on Friday.  They rented a convertible and so we decided to just cruise up Lakeshore Drive with the top down.  Very nice.  On the way back, we decided to stop at Navy Pier and I got some shots in.
After some finagling, I got Steph to go on the Ferris Wheel.
Ferris wheels do frighten me a little, but I knew the view would be awesome.
Saturday night was my birthday party!!  It was much fun.  Thanks to all who came out for it.  We started the party with a little Playstation Karaoke.  Six of us played but I only got pictures of two, unfortunately.  Laughs all around though, I tell you what.
Paige singing "Hit Me Baby One More Time" while simultaneously trying to answer her cell phone to give directions to my apartment.
Tim (a different one, obviously) singing "Born to be Wild."
Sara Hef from college managed to make the trip!  I was very excited to see her.  (They're watching the karaoke in this picture.)  Ignore the blurry Paige on the right.
Here's TC, Tim, and Laura in a totally natural and not-at-all-posed picture.
I love the picture.  I just wish the lighting hadn't been so off for it.  Oh well.
Aww…aren't we cute?  Riiiight.  I think I look like I'm in pain.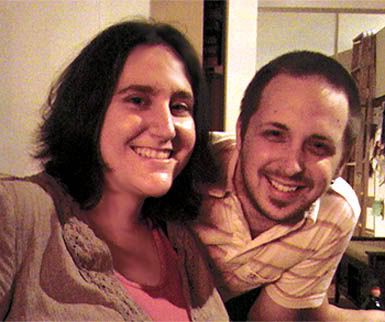 And lastly, I went to Lollapalooza on Sunday to see The Shins.  I know I'm pretty far back, but trust me–they were on stage.  It was a good show.