As promised to many: more information on my engagement!
First of all, it was less of a surprise to me as it was to some of you; Mr. W and I had been discussing the prospect for a little while. Mainly he was waiting to ask because he wanted to get my father's blessing (which happened over Thanksgiving weekend). I was surprised as to the when of it all, however.
My boss came over around 2:30 today (well, I guess it was technically yesterday by this point) and said everyone needed to come with her for a small meeting. She led us toward some small conference rooms but instead entered the reception area. As I entered I saw Mr. W there holding dark red roses and looking moderately terrified. He stood up and, in front of my co-workers and Paige, got down on one knee and asked me to marry him. He said lots of nice things prior to this, but damned if I remember what any of them were. Something about loving me, making my face as red as the roses…it's all a blur. I do remember saying yes, however.
Here's the ring! (Mr. W is in the background playing Sims 3.)  The green stone is Peridot, my birthstone (plus it's green and shiny!)  When I called my mom to tell her the news, I was describing the ring and…
Mr. W: "Instead of some elaborate proposal all I would have had to do is wave it in front of you… 'Teri, it's green and shiny!'"
Mom: [laughing] "Yep, that's pretty much it."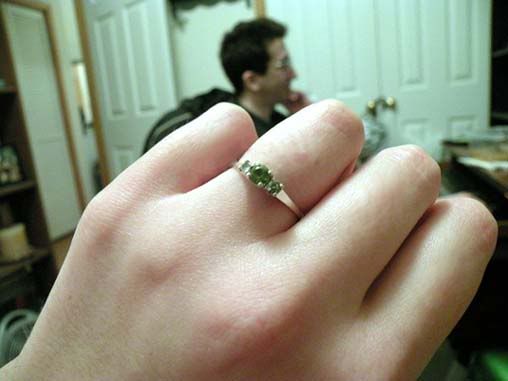 We're planning on getting married on October 14th. It's a Thursday which is MUCH cheaper than a weekend wedding. I'm all about saving money on this shindig. So to any married people out there, or people with a penchant for savings–I'm all ears to cost-cutting tips. We've also picked our location–a cottage in a park with a gazebo! It means a smaller reception, but that is also fine with me as I would prefer not to have some huge mammoth thing of a party [plus that's expensive!].
I have also bought a dress. We originally went just to look but hey, it was on sale. Here's a link!
That's it for now. Exciting! I don't think it's all sunk in yet. I keep looking down at the ring and thinking, "Whoa… I'm going to get married!!" It's a little surreal. But in a very awesome way.