Tonight will be the busiest night of the year. In preparation, what does my brain do? It wakes me up after only four hours of sleep. This will be interesting. I need to remember to pick up some champagne before work. I really should write that down, but I won't–I live on the edge.
So after positive feedback from several people, I bought this dress: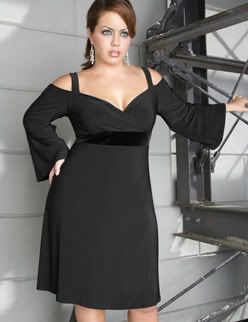 I'll wear it for the formal night on the cruise, which (holy hell) is a week from tomorrow. That almost makes me panic.
I was looking at shoes online today and found a weird shoe site. While searching through their pull down menu of different shoe types–you know "sandal", "dress", "boots"–the bottom of the list had the shoe type "vegetarian". I'm sure they meant no leather, but come on, that's just funny.
I was talking to my brother and cousin about this earlier in the week, but I don't understand the new marketing on Sprite cans. They now boast "100% Natural" on the soda can. My first thought: Oh, ok–they must mean real lemon and lime juice for the flavoring. I accepted that. However, if you turn the can just a little, you'll then see a small note saying "Contains no juice." We speculated for a little while on that one, finally deciding that the 100% Natural is referring to the actual can. It's bone fide, 100% all-natural aluminum, thank you very much. The people at Sprite want you to know that their cans have not been tainted with copper or, god forbid, tin.
I think that's very nice of them.